Our promise:
We finish what we start – successfully.
Some call it a philosophy, maxim or mission statement. For us, it's our job, identity and responsibility all in one: We develop machinery and tools for window and façade construction. We speak our customers' language, understand their requirements, and manufacture practical products.
Thanks to our exceptional production depth, we deliver optimal workmanship at every stage, with state-of-the-art technologies and a highly trained workforce. Continuous quality controls and practical test runs guarantee impeccable products. A project is only successfully completed when the customer is more than happy.
Always true. Always practical. Every day.
1977 Urban was born
This is the year our success story began. Founded by Horst Urban, the company is now in its second generation, with the third on the way.
50 employees
Our team guarantees success: We don't just talk the talk – we walk the walk. We're a colourful bunch of personalities with one common goal: Excellent products for enthusiastic customers.
4000 m2
Our production halls are modern, bright and well equipped. They offer the best conditions for manufacturing high-precision products and assuring their quality.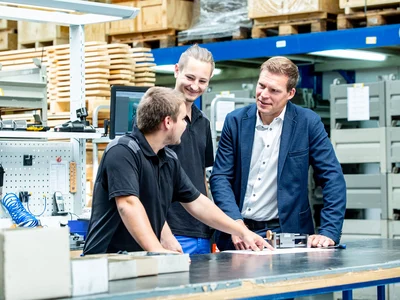 Journey and destination: Development.
Where we came from. Where we're going.
| | |
| --- | --- |
| 1977 | Company founded by Horst Urban at the Bandelstraße site |
| 1980 | First production halls built at the Kiebitzstraße site |
| 1980 | Development of the Isomat system |
| 1981 | New extension officially opened |
| 1986 | Kiebitzstraße site extended |
| 1992 | Volker Steinkemeier joins the management |
| 2001 | Development of the modular punching system |
| 2008 | Kiebitzstraße site extended |
| 2010 | Katrin Urban joins the management |
| 2012 | Europe-wide sale of modular punching system |
| 2022 | Tim Adam joins the management |
Yesterday, today and tomorrow:
We shape progress and our industry.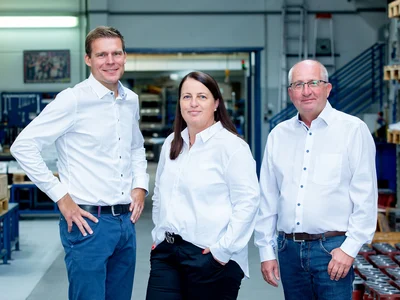 Journey and destination: FUTURE.
Innovation from generation to generation.
We love questions. And innovative answers. We don't settle for the first answer – we pursue the best answer. In our quest to make the impossible possible, we're always thinking one step ahead. That's how we shape progress – in the short, medium and long term.
Our vision for innovation & the future: We turn problems into opportunities. We see risks as challenges. And we're optimistic and curious in the process. We're courageous; we think outside the box to make changes and improvements. From today to tomorrow.